Archive for August, 2010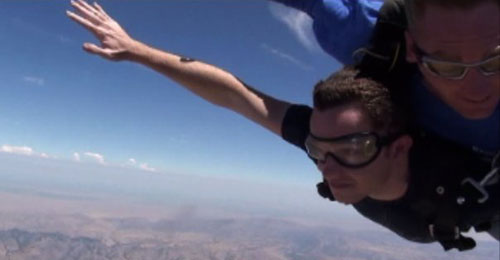 I've cut loose and made the jump. Now it's time to see if I hit the ground running or fall flat on my face.
The moment in between jumping and landing is the fall. It's the weightlessness you feel as you no longer have control of your trajectory. I've carved out a tight niche in a young field. I'm simultaneously turning away work (general Flash development, for which there is always demand) and hunting to find work (data visualization, specifically).
I quit my awesome job at BitGravity on June 28, effective July 9. My last 2 weeks were spent on-site in Burlingame, CA & Santa Cruz, CA. On Monday, July 12, I hit the ground running, meeting with prospective clients in the Bay Area. Before my flight from SFO to LGA (NYC), I made a quick trip down to LA then San Diego, for potential leads and to meet up with friends.
After a week and a half of independence, I was on my way to NYC. I had a mostly open schedule after the first few days. I was planning to stay 2-3 weeks. It ended up being 2 weeks, with a day trip to Philadelphia as well as a day and a half in Washington DC. Three and a half weeks of cross-country business development in 6 cities.
Now that I'm back in Phoenix, recovering from a trip that spanned almost 6 weeks, I'm wondering if what I just did was crazy or brilliant.
You quit an awesome job with pretty cool perks to take a flying leap of faith into a young market without any customers lined up, and you start off by blowing a bunch of money on a coast-to-coast road (well, mostly air) trip? Are you nuts? Maybe.
I'm going to write about this trip, because the concept is intriguing to me. I have a hunch the plan was mostly brilliant and partly crazy. Being a little bit of both can go a long way.
UPDATE: Act 3: The Landing
You are currently browsing the Brian Shaler blog archives for August, 2010.